Birds outside the window of your home flying about the trees and hovering by flowers adds a sense of calm and tranquility to the scenery. A few things you can add to your property to help attract the birds and keep them nearby is a:
1)
bird feeder
2)
bird house
3)
bird bath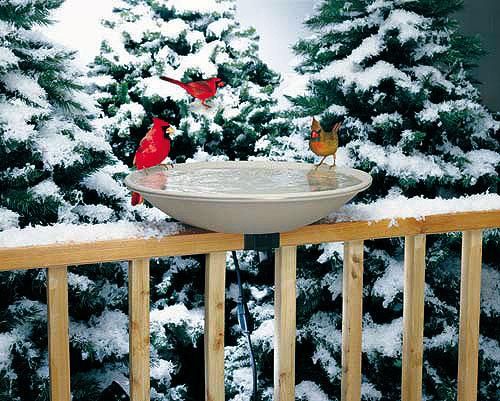 4)
hummingbird feeder
Why buy a bird house, bird feeder or bird bath?
1) liven up a backyard, garden or patio
2) hear soothing bird songs
3) enjoy the serenity of nature's creatures
4) take care of nature
Over 55 million Americans feed the birds each year in their own yards which signals the birds to return again and again. Their presence will bring enjoyment year after year for your family and friends.
It couldn't be easier to purchase a bird bath, birth feeder or bird house. Backyard Chirper offers a safe, secure checkout with assistance by friendly, knowledgeable staff who are committed to their customers.
There is a wide assortment of bird houses to choose from:

* House / Hopper Feeders
* Tray / Platform Feeders
* Tube / Finch Feeders
* Suet Feeders
* Wire Caged Feeders
* Window Feeders
* Squirrel Proof Feeders
* Decorative Feeders
* Hummingbird Feeders
* Cardinal Feeders
* Oriole Feeders
* Bluebird Feeders
* Bird Food
* Bird Feeder Accessories
* Bird Feeder Kits
* Bird Poles & Mounting
I had no idea there were so many types of bird houses. I mean really, birds are so small! I think they have more options they humans!
Don't know anything about birds, but you want to get started? That's great because there is a huge library of information at the Backyard Chirper
geared towards educating the public to become pros at taking care of our feathered friends.
Excuse me, but I'm going to sit outside in the garden and watch the hummingbirds and Cardinals fly around my property while I enjoy a relaxing few hours with a good book.
My opinions are valued and I was compensated by my friends at Backyard Chirpers for this post.